Description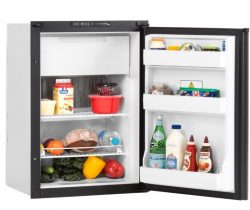 AES series absorption refrigerator for 12 volts, 240 volts and gas. Single-curved door models. Automatic Energy Selector (AES) with electronic gas ignition.
Single-curved door model, 550 mm wide
Gross capacity with freezer compartment approx. 90 litres
without freezer compartment approx. 79 litres
freezer compartment approx. 11 litres
Input rating 240 volts 175 watts
12 volts 175 watts
Gas 13.5 g/h
Recess required W521 x H756 x D542 mm
Quality features
Gas operation with battery-powered ignition, thermostatic control
for 240 volt, 12 volt and gas.
Wide metal mounting flanges for built in application – no exterior skin.
Excludes door panel
Reversible door kit included
Requires  vent and flue kit  DRV0033
Interior light
Thermostatic control for 240 volt, 12 volt and gas
Positive lock door handles
Adjustable, removable door racks.